Israeli Coat of Arms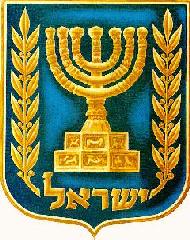 The Israeli Coat of Arms features the Menorah, the candelabra used in the ancient Temple in Jerusalem. It, along with other Temple artifacts, was captured almost two millennia ago by the Romans during their siege of Jerusalem.
According to the historian Josephus, a Jew who lived at the time of the Romans, "Most of the spoils that were carried were heaped up indiscriminately, but more prominent than all the rest were those captured in the Temple at Jerusalem - a golden table weighing several hundred weight, and a lampstand similarly made of gold but differently constructed from those we normally use. The central shaft was fixed to a base, and from it extended slender branches placed like the prongs of a trident, and with the end of each one forged into a lamp: these numbered seven, signifying the honour paid to that number by the Jews." (Josephus, The Jewish War, G.A. Williamson, translator, Penguin, 1959.)
The Arch of Titus in Rome has on it a carving depicting the spoils of the Temple - including the Menorah - being carried triumphantly through Rome.
Home